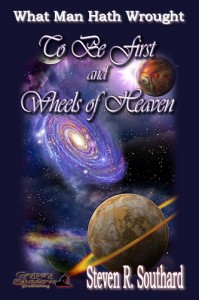 As the launch date for "To Be First" and "Wheels of Heaven" nears (this Tuesday, July 1st), and excitement builds, I think it's time for me to reveal the story behind "To Be First."
A few years ago, I watched an episode of the TV show Mythbusters where they replicated a feat supposedly performed by Lagâri Hasan Çelebi in the Ottoman Empire in 1633. Çelebi is said to have constructed a rocket chair, launched himself into the air, and flown down safely using a wing-like apparatus. The event was intended to commemorate and honor the birth of the Sultan's daughter.
The Mythbusters team considered the myth busted, but it got me to thinking. What if such a marvelous flight had taken place? What if the Sultan had understood the geopolitical and military implications?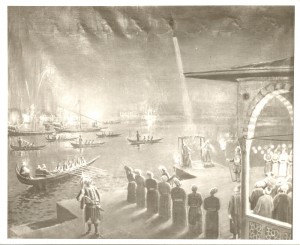 Think of it. Manned rocket flight in the 17th Century. Defensive city walls and high castle walls would mean nothing to a country with armed rocket-men. Rather than expanding and then beginning its slow decline to finally die with the end of World War I, the Ottoman Empire might have spread much more quickly and farther.
Had the Ottomans also embraced the science behind rocketry, they might have hastened other technical achievements, and been the source of those advancements rather than watching America and the rest of Europe prosper.
It seemed like an interesting basis for an alternate history tale, so I wrote one. In my version, it's 1933, three centuries after Çelebi's flight, and two Ottoman astronauts (called lunanauts) are returning from the first manned flight to the Moon. Yes, I said 1933, not 1969.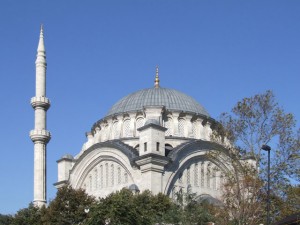 I imagined their space capsule being about the same size as the Apollo capsule, but dome-shaped with a central spike like the roof of an Ottoman mosque.  The capsule would have a couple of windows and there would be some of that beautiful, flowing Ottoman Turkish writing on the outside.
As the story commences, the lunanauts encounter a strange ionic storm in space, and their capsule passes into an alternate universe. The tale takes off from there.
My central characters, Yazid and Kemal, hold differing views on what it means to be an explorer. What are the motivations behind those who roam beyond all prior journeys, who probe far into unknown regions? Do they do it for the money? For fame? For love? Or is it something simpler?
If you read my story, perhaps you'll be motivated to become an explorer, and you'll write your own gripping story of heroic and fantastic adventure. You, too, can manage 'To Be First.' At least, so says—
Poseidon's Scribe
Please follow and like me: