If you're into science fiction, particularly alternate history or speculative fiction, there are some interesting sub-genres to be aware of.  They all have -punk in their name:  cyberpunk, clockpunk, steampunk, dieselpunk, and atompunk.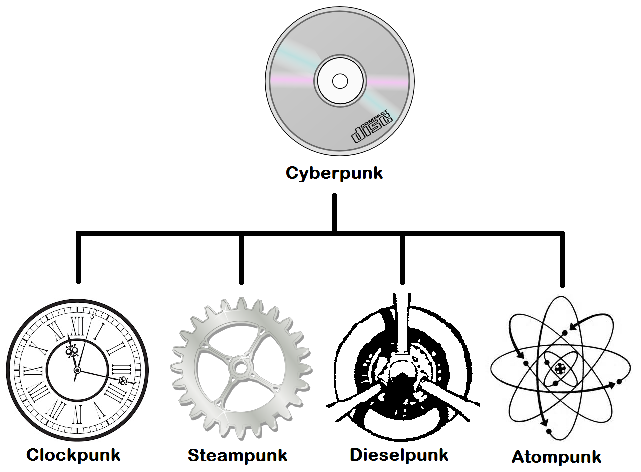 I've blogged about steampunk before, but here I'll step back and introduce the Punk family.
Cyberpunk

. This term describes fiction involving a world of the near future where computer technology has made life miserable and degraded society.  Author

Bruce Bethke

is credited with coining the term in 1980 in connection with his short story "

Cyberpunk

."  Major writers of cyberpunk include

Pat Cadigan

,

William Gibson

, and

Bruce Sterling

.  Some cinematic examples of cyberpunk are 1984, Blade Runner, Mad Max, the Terminator movies, and Tron.  In my graphic I've depicted it as the parent of the Punk Family since it came first.
Clockpunk

.  This refers to fiction set in a time when metal springs are the primary technological energy storage mechanism, an era prior to the invention of the steam engine.  A player of the Generic Universal RolePlaying System (

GURPS

) invented the term.  Clockpunk authors of note include

Jay Lake

,

S. M. Peters

, and

Terry Pratchett

.
Steampunk

.  This subgenre depicts settings with steam-powered mechanisms, often in time periods similar to the nineteenth century.  Author

K. W. Jeter

invented the term in 1987.  Early giants of steampunk literature include

James Blaylock

, K. W. Jeter, and

Tim Powers

, though there are many, many writers continuing in their footsteps.  Movie examples of steampunk include Atlantis: The Lost Empire, The League of Extraordinary Gentlemen, The Prestige, Sherlock Holmes, Van Helsing, and Wild Wild West.  I think it's fair to say this child of cyberpunk has surpassed its parent and all its siblings in popularity.  It has spawned a culture all its own with jewelry, clothing, art, music, and dedicated conventions in addition to books.
Dieselpunk

.  In Dieselpunk we see the gasoline-based technology of the 1920s, 30s, and 40s.  Game designer Lewis Pollak came up with the term in 2001.  Authors of dieselpunk include

David Bishop

,

Robert Harris

,

Brian Moreland

, and

F. Paul Wilson

.  Some examples of dieselpunk movies are Rocketeer and Sky Captain and the World of Tomorrow.  As with steampunk, dieselpunk also comes with its own visual style — art deco.
Atompunk.  This refers to fiction set in the exuberant post World War II age, the Atomic Age.  I couldn't find anything about who coined the term.  Some atompunk authors are

Adam Christopher

and

Dante D'Anthony

.  I don't know of any atompunk movies made since the sub-genre emerged, but many science fiction movies of the 1950's can be thought of as proto-atompunk.  There are associated visual styles with atompunk, too:  Googie Architecture, Populuxe, and Raygun Gothic.
There are other, lesser known, members of the Punk family:  Decopunk, Biopunk, Nanopunk, Stonepunk, Nowpunk, Splatterpunk, Elfpunk, and Mythpunk.  Perhaps if these attract sufficient readers, I'll blog about them too.
The '-punk' aspect of each of these is meant to convey that these are not celebrations of the technology in question.  The idea in these stories is to convey dark and disturbing faults in the societies driven by the technology, and by extension, to point out analogous problems with our own modern society.
My steampunk stories include "The Steam Elephant," "The Wind-Sphere Ship," (call that one Iron Age steampunk), "Within Victorian Mists," "A Steampunk Carol," "The Six Hundred Dollar Man," and the upcoming "Rallying Cry."
I've written a couple of clockpunk stories too:  "Leonardo's Lion" and "A Tale More True."
Perhaps you'll enjoy getting to know the Punk Family.  They're an odd bunch, but they're getting more famous every day.  Leave a comment and explain what you think about them to the world and to—
                                                        Poseidon's Scribe
Please follow and like me: