As a writer, where do you get your inspiration?  To what or whom do you appeal for the creativity you need?
I have a strange confession to make.  Every weekday, I happen to walk by a statue.  Rather than just glance at it, I make a silent wish that the spirit of the man represented will imbue me with the creativity and talent I need for whatever story I'm working on at the time.
Silly?  Perhaps.  But you have to admit there's something about statues.  At the U.S. Naval Academy, there's a statue representing the figurehead of the old USS Delaware, a chief of the Delaware tribe the midshipmen call "Tecumseh."  The midshipman toss pennies at the statue as a wish for good luck in upcoming examinations.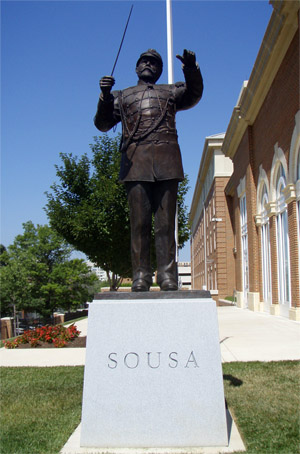 But the statue I pass by twice daily is different.  It's a representation of the American composer, the director of the Marine Corps Band, the 'March King,' John Philip Sousa.  The statue's pedestal bears the only word necessary, "Sousa," though in my ritual, I call it J.P.  The sculptor captured him in the act of directing, left hand pointing to a section of the band, right hand gripping the raised baton, head tilted as he enjoys the music.
How, you're asking yourself, can a writer draw inspiration from a statue of a music composer?  For one thing, there are no statues of writers along the path I walk.  Secondly, composing music has much in common with writing.  Music, they say, is the language of the soul.  Both require creativity and both demand years for the talent to develop.
I've blogged before about the benefit of tangible symbols to use for motivation.  If you can come to see the symbol as urging you towards betterment, prodding you to sit in the chair and write, exhorting you to be as good at writing fiction as you can be, then it will always be there for you, a steady and unchanging inspiration.
Do you have a statue or other symbol you use for motivation?  Let me know.  Do you think the whole idea is crazy, that it's the height of foolishness to assume a statue has the power to grant fiction-writing prowess if one only pleads to it?  Leave me a comment.  In the meantime, many thanks to J.P. for being a great inspiration to—
                                                           Poseidon's Scribe
Please follow and like me: