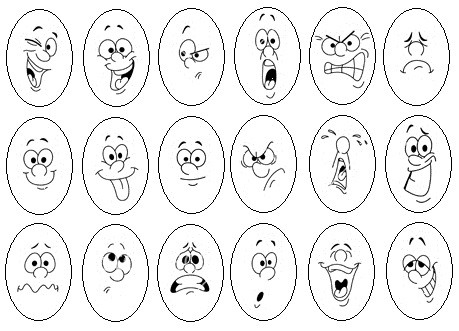 It's important for a fiction writer to learn how to describe human facial expressions.  A person's face is the most communicative body area, and often it reveals a character's feelings.  Amazing, isn't it, how many things we can make our faces do!  There may be as many facial aspects as there are possible mental states.
Small wonder there are so many English verbs devoted to describing a person's mien:  blanch, blush, grimace, grin, smirk, etc.  It surprised me to find the Wikipedia article on Facial Expressions only listed six "classically defined facial expressions:  Anger, Disgust, Fear, Joy, Sadness, and Surprise.  However, the article goes on to list "other examples of feelings that can be expressed" including:  Concentration, Contempt, Desire, Empathy, Frustration, and Love.  Maybe the list isn't infinitely long, but it doesn't end at six.
Writers aren't restricted to single-word descriptions of human facial expressions, of course.  Sometimes it's useful to describe what's happening on a character's face and trust the reader to recognize the expression and deduce the character's feelings.  In Clement Clarke Moore's poem known popularly as "The Night Before Christmas," we encounter the line, "His droll little mouth was drawn up like a bow," and we know St. Nicholas is smiling, and therefore is happy.  Although you could break down all facial expressions and describe them in detail in your story, that would get tedious, so be sparing in your use of that technique.
Of course you shouldn't restrict yourself to describing facial expressions alone.  Your characters adopt bodily poses, make hand gestures and other movements.  These can also express mood, sometimes more accurately than the face does when a character is trying to hide his or her feelings.
Returning to my subject of faces, I should also mention that characters (like real people) can have, well, characteristic or habitual facial expressions.  These might be due to an almost perpetual non-neutral mood, or some nervous habit.  Giving a character one of these habitual expressions can help readers become familiar with the character.
While doing research for this blog entry, I came across some great references for writers.
Was this helpful?  What are your favorite ways to describe character's facial expressions?  Can you think of an example where a writer did it particularly well?  Feel free to send me a comment on the subject.  Since this blog entry is in the written medium, you can't see what's written all over the face of—
                                                          Poseidon's Scribe
Please follow and like me: