The snowflake I'm blogging about today doesn't have much to do with winter weather, but instead a writing method developed by author Dr. Randy Ingermanson.  I won't go through his method here, since he does a much better job describing it on his site than I could, but I'll just discuss why I like it and why I think you will, too.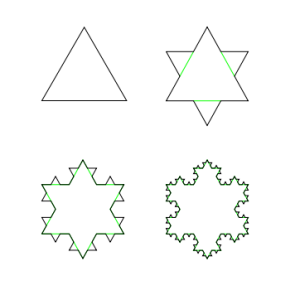 First, a snowflake is a good metaphor for a story (no two alike, many quite intricate and beautiful), but that's not how Dr. Ingermanson means it.  He's referring to the mathematical fractal construction that starts with a simple shape, adds to the shape according to certain rules, and beautiful complexity emerges, with the final shape looking like a snowflake.
In the same way, he's suggesting you start with very basic ideas about your story, then add to those ideas in a logical manner, building more detail with each step.  Near the end of his ten-step process, you've got a thorough plan for your story.  The tenth step is to write the story, which is much easier when you have your plan in front of you.  You'll find you don't get stuck as often, or frustrated at boxing yourself into a plot situation your characters can't get out of, at least without major changes.
I've discussed earlier how plot, characters, and setting have to fit together such that the story couldn't really take place with any other characters, and the plot actions seem both inevitable and surprising, and the setting is the necessary one for the story.  Ingermanson's Snowflake Method makes this happen for you, by incrementally developing plot, characters, and setting, starting with sketchy concepts and adding more detail to each in turn until you end up with a comprehensive plan for your story and everything seems to fit.
How do I use the Snowflake Method?  First, I've been writing short stories, and the Snowflake is intended for novels, so I abbreviate it a bit, sometimes using mind maps for some of the steps instead of writing them out fully.  Second, I add a step concentrating just on the story's hook, the opening sentence and paragraph.  Third, I sometimes add a step to construct a motivation chart using a modified Root Cause Analysis chart to make sure my characters take believable actions in accordance with their personalities.
One downside to the Snowflake is the fact that it requires so much time for planning the story, and actually writing it must wait until the last step.  Meantime, your muse may be screaming at you to cease all this planning stuff and get on with things.  A screaming muse is actually good, much better than what comes next.  If your muse starts feeling ignored, she will get bored and go away, or start looking for other story ideas to intrigue her.  So keep thinking of the Snowflake as a method for getting to know your story better and better, not as a dreary planning exercise.  Focus on the emerging details; promise your muse that you'll be doing actual writing soon.
Dr. Ingermanson has come up with software to make the Snowflake Method easy and fun.  Cheapskate that I am, I have not yet purchased it, but that package might be right for you, especially if you are struggling to accomplish the steps using word processors and spreadsheet programs.
Consider giving the Snowflake Method a try.  Visit Dr. Ingermanson's site.  Whether it works for you or not, I'm sure he'd like to hear about your experiences with it.  And of course, if you'd click on the "leave a comment" link below, so would—
                                                            Poseidon's Scribe
Please follow and like me: