We still live near the dawn of the Internet Age, of course, so it's perhaps a bit early to assess the web's impact on writing.  But here goes, anyway…
First, it's instructive to recall the past technological developments that aided fiction writers, or allowed them to better connect with paying readers.  Here's a partial list:  libraries, bookbinding, printing presses, mass production of paper, mail delivery, bookstores, dictionaries, typewriters, computer word processors, and eBooks.  Each of these innovations aided storytellers in significant ways.
(By the way, I'm aware of the difference between the 'Internet' and the 'World Wide Web.'  Even so, they're intertwined enough that I'll use the terms interchangeably.)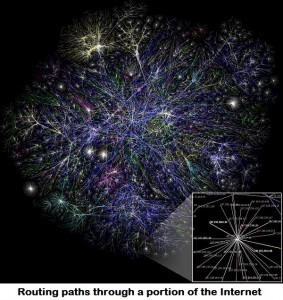 I would argue the Internet's impact on writing is (and will be) as great as any of those previous technologies.  It's true, those who created the Internet did not have authors specifically in mind.  But some of the Internet's attributes have eased the processes involved in the writing business:
Span.  The Internet covers the world; and to a greater extent every day, it is spanning all of human history; and encompassing a larger fraction of all human knowledge.
Search and Retrieval.  Internet search engines provide a way to sift through the vastness and find desired, specific information, no matter how obscure.
Permanence.  To some extent, the Internet represents a permanent record.  I believe the way data is stored and backed up renders far less likely a tragedy such as the destruction of the ancient Alexandrian Library.
Speed.  Everything you can do on the Internet, you can do fast, much faster than using the mail, or hunting through a library.
Availability.  The Internet is within reach of nearly everyone, and at very low cost.
In short, the web eases the way people connect to information and to other people.  The sudden ease of those connections has been a boon to writers.
Here are some ways the web has improved several steps of the writing process:
Research.  It is far easier for writers to research specific topics using the Internet.  There are gaps in the web, of course, and problems with accuracy of information, so trips to the library remain necessary on occasion.
Co-authorship.  E-mail makes it easier to collaborate with another writer when both are contributing to a book.
Critiquing.  It's no longer necessary to find other writers in your local area to get your manuscripts

critiqued

.
Market searches.  Websites like

Duotrope

,

Ralan

, and

Doug Smith's Foreign Market List

make it much easier to compile a prioritized list of ideal markets for each of your stories.
Submitting.  Most markets take online submissions, either through e-mail or their own online form.  Much faster and less costly than mailing.
Publishing.  As with many other businesses, the Internet has allowed people to quickly form small businesses operating out of their homes.  This has resulted in a proliferation of publishers.
Advertising.  The advent of websites, blogging, and social networking has opened up new ways for authors to reach readers.
Book-shopping.  For readers, the Internet's search features and various online booksellers have eased the process of browsing for the next book to read, no matter how obscure the reader's interests.
Reviewing.  Online bookselling sites have made it easy for anyone to post a book review.  These reviews help other readers make their purchasing decisions.
The Internet has helped writers in every way except one.  It won't write your book for you!  And maybe that's a good thing.  Still writing my own stories, I'm—
                                                          Poseidon's Scribe
Please follow and like me: