No, the Objective Correlative isn't a dance step, so far as I know.  It's a literary term that can be hard to comprehend.  Let's see if I can explain it in words even I can understand.
Imagine you're an author writing a scene in which a boy encounters a rather scary bear.  You want to convey to the reader the emotion felt by the boy when he senses the bear is watching him from somewhere, but he can't see the animal.  You could simply state the boy was scared.  That would violate the principle of show, don't tell we've discussed before, and it's rather on the amateurish side. You could instead paint a word picture of the scene, as William Faulkner did in his story, "The Bear."
He heard no dogs at all.  He never did hear them.  He only heard the drumming of the woodpecker stop short off and knew that the bear was looking at him.  He never saw it.  He did not know whether it was in front of him or behind him.  He did not move, holding the useless gun, which he had not even had warning to cock and which even now he did not cock, tasting in his saliva that taint as of brass which he knew now because he had smelled it when he peered under the kitchen at the huddled dogs.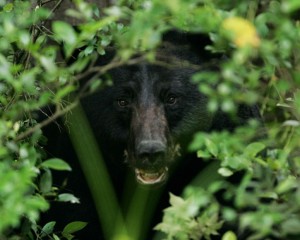 First we have the sudden silence of normally noisy animals–dogs and a woodpecker.  We have the sense of "blindness" in that the boy cannot see the bear.  Faulkner describes the boy's only potential weapon in countering the situation as "useless" and not even cocked.  There's a cold, metallic taste in his mouth.  Finally we find the dogs huddled, hiding.
In a few sentences, Faulkner shows us that terror of being watched, vulnerable, unable to even confront the danger.  Never once does he mention the boy's emotion, and yet we feel it nonetheless because of the situation, the chain of events, the details chosen in the passage.  Moreover, a single one of the details wouldn't have sufficed; the combination of several details completes the effect of evoking the emotion.
That is the Objective Correlative.  The artist Washington Allston coined the term around 1840 and meant it to be applied to painting.  T.S. Eliot later revived the term and applied it to literature.  I came across the concept while surfing the web one day when I came across this site.
T.S. Eliot said there are ways to fall short of having the right objective correlative.  The details in a scene might not leave readers with any particular emotion, or maybe with the wrong one.
You can use common literary symbols as part of an objective correlative.  Some of the many symbols used to represent an emotion include the color blue to mean calm, darkness to mean fear, rain to mean sadness, and a mouse to represent shyness.
Of course, readers vary by culture and background and some words do not convey the same emotions to all.  Still, the objective correlative is an effective tool for maximizing the emotional impact of your writing.  I encourage you to 'do the objective correlative' even if it isn't a dance.  Did this blog entry help you understand the term?  Leave a comment and let me know.  Dancing here in this little corner of the Internet you'll find–
                                                  Poseidon's Scribe
Please follow and like me: