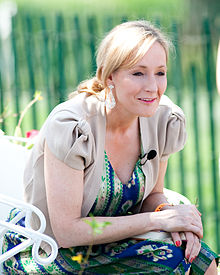 Want to write stories for Young Adults?  Hard to blame you.  It's a large market, and some authors have become successful in aiming for it.  If you, like J. K. Rowling, happen to write a YA story that also appeals to adults, then your story's market is that much bigger.
Perhaps your purpose in writing YA stories is more complex than a direct desire for money or fame.  One web commenter has suggested writer Robert Heinlein wrote YA (then called 'juvenile') novels to shape a young audience, to prepare readers for later buying his brand of adult novels.  If true…wow!  That's thinking ahead!
Whatever your reason for wanting to write for it, the YA market is an interesting one.  It took until about 1900, several hundred years after the first printed books, for the following confluence of events to make a YA market possible:  (1) the price of books dropped to be within a teen's budget, (2) teen buying power rose so they could afford books, and (3) teens weren't working so long and had available time to read.  Once the market emerged, authors began aiming for it.
What are YA stories like, and how do they differ from other genres?  Young adults, as an audience, are leaving the comfortable world of childhood and ready to experience adulthood.  They're curious about it, anxious to try things.  Fiction gives them a safe opportunity to "try" things in a vicarious way.  They've grown beyond simple, moralistic tales.  They crave stories with identifiable, strong but vulnerable characters–complex characters who aren't all good or all bad.  A good, solid plot-line is more important to them now than it was in the children's books they no longer read.
In short, YA stories are very similar to those written for adults.  I thought I'd read once where Robert Heinlein had said writing for juveniles (the old term for YA) was just like writing for adults except you take out all the sex and swearing.  I can't find that quote now, but it would need amending anyway.  Notice Heinlein had no problem with violence in YA stories, and that remains true.  As for sex, it's probably best to leave out graphic descriptions, but don't pretend the act doesn't exist.  As for swearing, it's my guess that mild swearing is acceptable in YA literature these days.
How do you write for the YA market?  I think it's important to think back to your own teen years and pull what you recall from those experiences.  Remember when the world was new to you, when all your emotions were intense ones, when you longed to be accepted and wondered if there were others like you, wondered if you'd find even one special person for you?  Pick a protagonist who is aged a few years older than your target audience, either in the late teens or early twenties.  Don't talk down to your readers; they're old enough to look up words they don't understand.  Don't set out to write a moralistic story of instruction; teens are quick to spot a lecture and, frankly, they get enough of those from their parents.  They're not about to shell out good money and spend their time reading a sermon from you.
My own reading as an early teenager focused on the Tom Swift, Jr. series published between 1954 and 1971.  After that I primarily read Jules Verne and other science fiction authors, mostly those writing hard science fiction.  Now as a writer, I think all my stories should be acceptable for the YA audience, though I haven't consciously aimed for it.  My tales have very little swearing.  There is a sex scene (of sorts) in my horror story, "Blood in the River," but nothing too graphic.  However, none of my published stories feature a teen protagonist.
Good luck with the YA story you're writing.  If this blog post has helped in any way, or if you take issue with what I've stated, please leave a comment for–
                                                    Poseidon's Scribe
Please follow and like me: