As both of my many readers know by now, I listen to books on tape more often than I read them these days.  The latest was Counting Heads by David Marusek.  I listened to the Recorded Books version narrated by Kevin R. Free.  I enjoy good science fiction, and the blurb about the book sounded impressive.  Mr. Marusek has apparently written short stories and I believe this is his first novel, but I have not read anything else by this author.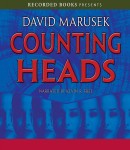 In a future North America where people can live hundreds of years, and nanotechnology and artificial intelligence have made life (mostly) more enjoyable, artist Sam Harger marries billionaire and soon-to-be-politician Eleanor Starke.  Things go awry when Sam is falsely pegged as a terrorist and the Department of Homeland Security (a future and scarier version of it) alters his body so he can no longer be rejuvenated and he now emits a powerful stench beyond cleansing.  Then there's a plane crash in which the aircraft seat mechanisms protect his daughter Ellen by severing her head from her body.  Medical science has advanced enough to allow re-growing a body from just the head.  But others are after Ellen's head, perhaps the same evil folks who caused the plane crash and the mistaken terrorist accusation.
I like the world Marusek has created for this novel.  Most people have robotic "mentars" to aid them in drudgery tasks.  Many people are, in fact, clones, and Marusek goes into some detail describing the various types.  Nuclear families have given way to "charter families" functioning by contract and subject to change.  However, terrorists have created nanotechnology viruses, from which cities protect themselves with shield domes.  Mechanical "slugs" crawl about testing people's identities, and mechanical bees and wasps swarm around observing things for government or media purposes.  I thought Kevin Free did a fine job in reading the novel.
However, for me, that sums up the book's positive aspects.  Perhaps as a listener rather than a reader I may have missed something, but it wasn't clear to me what the central conflict of the novel was.  If Sam Harger was supposed to be the protagonist, then the novel spends too little time following the events of his life, and strays into following other characters.  Sam did not seem to me to be actively involved in resolving the central mystery of the book.  As a result, I found it hard to care about him.  The other point-of-view characters are all more focused on their own lives and I found it hard to care about them or even connect them to the plot at all.  The whole book therefore seems a confusing muddle to me.  Is there really a central conflict in this novel?  If so, what is it, and why do the characters not pursue its resolution with any apparent dedication?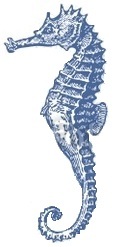 After thinking about this for a time, and after reviewing my definitions for my five seahorse rating system, I have to give this book my lowest rating of one seahorse.  If you're intrigued by science fiction and want to experience one writer's thoughts on clones, nanotech, advanced medical science, and robotic animals, you might consider reading Counting Heads, but I recommend looking elsewhere.   However, it's possible I missed its greatness somewhere; if you're the person to set me right, please leave a comment for–
Poseidon's Scribe
Please follow and like me: