It's clear to me now:  reading C. S. Forester's series of Horatio Hornblower novels in the wrong order is not the way to go.  After reading Mr. Midshipman Hornblower (1st in chronological order, 6th one written in the series) some time ago, I just finished Ship of the Line (8th chronological, 2nd one written).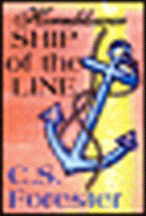 I listened to the Books on Tape version of the book, narrated by Geoffrey Howard.  This novel features Horatio as captain of the 74-gun HMS Sutherland.  He is shown as being more in love with Lady Barbara Wellesley, wife of Rear Admiral Leighton, than his own wife Maria.  He struggles to find enough sailors to man his crew and is forced to settle for untrained ruffians.  Once his ship is fully manned, he conducts a series of attacks to harass the French forces on coast of Spain.  He chaffs under the incompetent leadership of his squadron commander, Admiral Leighton.
If you know little about the British Navy of the early 1800s before reading the book, you'll feel like an expert afterward.  Forester gives just the right amount of detail for a reader to picture the scene without getting bored.  There is also so much to admire in Hornblower himself.  His strengths (bravery, audacity, cleverness) make him the perfect naval hero, while his weaknesses (jealousy, tone-deafness, and obsessive self-criticism) don't detract from his professional life.  If, like me, you skip from Hornblower as a midshipman to Hornblower as captain, you'll marvel at his maturity and the traits he's taken on.  Geoffrey Howard did a fine job with the book's narration.
I wish I'd read these books while I served in the U.S. Navy.  Actually I couldn't have, for I served during Hornblower's time period, long before Forester even wrote the books.  Seriously, all Navy personnel can learn much from Hornblower's decision-making methods, his boldness, his tactfulness, and his leadership style.
There were things I didn't like, however.  Hornblower's jealousy, his secret love of Lady Barbara, and his disdain for his own wife were off-putting.  Hard to maintain sympathy for a protagonist like that.  I was dissatisfied by the book's ending.  Without spoiling it for you, let me say this was more like a long chapter in a huge book than an integrated novel in its own right.  The ending of a book ought to resolve the main conflict in some way.  This book's ending seemed to resolve nothing.  But it did set things up for the next novel.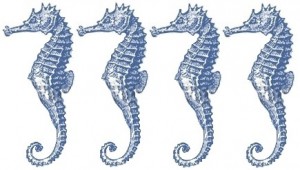 Using my world-famous seahorse rating system, I give Ship of the Line four seahorses.  I enjoyed it a lot, and you will too.  For these nautical stories, you should just take my word for it because, after all, I'm–
                                                                           Poseidon's Scribe
Please follow and like me: