Let me set the scene for you.  It's an elementary school classroom in Cedar Rapids, Iowa sometime in the mid-1960s. Young Steve Southard is a student in second, third, or fourth grade.  He has no idea that he will try his hand at writing stories someday.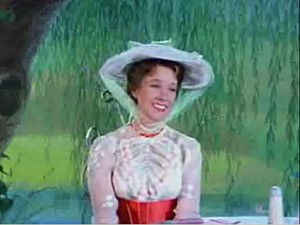 The teacher asks if we have seen the movie "Mary Poppins," and virtually all of us raise our hands.  Then she asks, "Who is the movie about?"
There was no word "duh" in those ancient times, otherwise we would have used it.  Every hand goes up.  When the teacher chooses someone, the obviously-right answer comes out: "Mary Poppins."  (I mean, after all, they named the movie after her!)
"Wrong," the teacher says.
That causes some puzzlement, and every hand goes down.  Raised hands are much more tentative after that, the answers are phrased as questioning guesses.  "The children?"  "No." "The mother?"  "No."  "Bert, the chimney-sweep?"  "No."
In desperation, someone guesses "the father?"  "Yes, that's right."  The father?  Really?  The movie is about Mr. Banks?
What a wonderful teaching moment and an ideal vehicle to use!  The teacher explained that the father was the only character who learned and changed, the only character with a major personality flaw that needed correction. (Well, the mother also has a major flaw, but she is definitely a secondary character.)
Mary Poppins is merely the agent of change. She arrives because a change is required, and leaves (as the wind shifts) as soon as it happens.  It is the father who we see initially as being comfortable in his established world.  The change agent shows him a different way of acting and he reacts badly to it.  He blames the change agent (instead of himself) and tries correcting the problem in his own way.  Things go from bad to worse until he loses the thing he values most–in this case, the security of his job.  He comes to understand his problem and the likely consequences of continuing along an unchanging path.  In the end we see he has changed, and is happier for it.
I'll leave other concerns (whether a father really should care so little about his job, whether the movie was a fair rendition of the books, other movie interpretations, etc.) to other analysts.  My purpose is to show that the protagonist in a story may not always be obvious.  Look for the character with a problem–internal or external–he or she is forced to confront, the character whose problem makes things worse and worse, and for whom the problem is resolved at the end in some way.  Find that character and you've found the protagonist.  In a novel or novella-length story, multiple characters can have flaws that get resolved, but it should be clear which character is entwined with the main plot, and which are secondary characters involved with subplots.
Funny how that incident in a long-ago classroom stands out in my mind!  Do you recall great learning moments from elementary school?  Do you know any other story examples where the protagonist isn't obvious?  Send me a comment.  In the meantime, I'll just sit here feeling rather supercalifragilisticexpialidocious. Until the wind changes, I'm–
                                                             Poseidon's Scribe
Please follow and like me: